your high tech solutions here!
Website is under construction! it will be up and running soon. Please keep checking.
We are the security and control systems people. We provide custom solutions tailored to your requirments.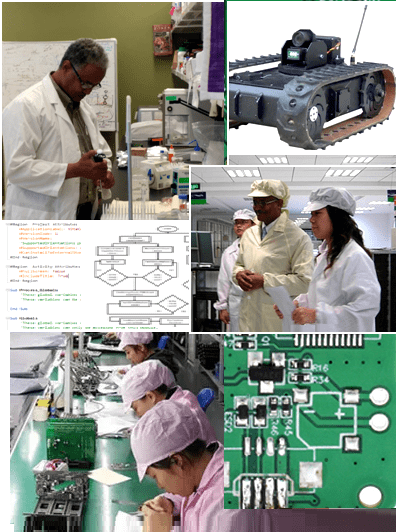 Creation of applications for Android
Java, Android SDK, cross compilers
Give us your new project's requirments and specifications and leave the design, construction and programming to us. No too small or too large projects, we accept any project size, from as simple as asset tracking and inventory management, to controlling machinary remotely or directly by microcontrollers using all kinds of communication technology, including the internet, satellites and wireless radios or dircet control using hardware interface. If your company's looking for high tech, effective and reliable controler to control any kind of process then we are the one point for hardware and software solutions. Use your smart phone to control virtually everything, Our communication solutions include: Internet, IoT, GPRS, RF datatranceiver, Acoustic, Optics, infra-red, Bluetooth, voice... etc.
Creation of CROSSPLATFORM applications
Ionic Framework 3, JS, React Native
Communication with clients
For all projects, project fees are paid in two parts: 50% in advance after customer signs the PO 50% When completed project is received by customer.
1. Customer contacts us with their technical problem. 2. We discuss with customer the problem nature and other general information. 3. Customer provides details about the problem and system requirments and specification.
1. We send to customer a working demo after some time depending on the complexity of the project 2. Customer reviews and tests the demo and sends us their feedback or requests for modifications or their final confirmation.
1. After final confirmation we start working on the project. 2. Customer sends to us the rest of the fees 3. The completed project is sent to custoer.
Mai LLC. is owned by sudan.org Inc., located in New Jersey, USA, has over 30 years experience in designing and implimenting custom software and hardware solutions any machine or process .
Mohamed Osman is the master creator and the designing technological genius who will make your technical solutions come true. Mohamed has been providing high tech solutions for virtually any sort of technical problem, custom tailored to customers' requirments.
Mai LLC. has the skills to carry out any solution from specification to reality. We invite you into our world to discuss any project - big or small. So, if you are looking for a technical solution to any problem, don't hesitate to contact us.
Companies and Institutions
Have a look at our diverse projects
While we provide paid consulting services and OEM/ODM solutions, we also give away some useful mobile apps that utilities to everyone. if you find these freebies useful for you purpose then we will appreciate any amount of donation to help us provide more titles and improve current the ones.